Mobile Surgery Company Aims to Streamline Procedures

Published: Oct. 23, 2013
By MEGAN NICOLAI / ORANGE COUNTY REGISTER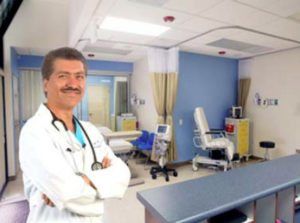 LAGUNA HILLS ‐ Physician anesthesiologist Shar Alikhani hopes to make simpler surgical procedures less frightening for patients and their families with his new endeavor that cuts the operating room out of simpler surgeries.
Alikhani is the medical director of MobiSurg, a company that provides mobile anesthesia and patient care services.
Before launching his mobile surgery venture, Alikhani served as chief of anesthesiology at Children's Hospital of Orange County at Mission Hospital for 10 years. He said he spent spare time while he was on‐call at the hospital trying to design what his mobile anesthesia cart would look like.
Alikhani said he noticed the need for a service like this after seeing children enter the operating room daily for simple surgeries, like placing ear tubes to alleviate an ear infection – a process that can take under a minute to place.
"There are about a million ear tube (procedures) done in the U.S. every year," Alikhani said. "To expose kids to a frightening environment for such a small thing, it's a big rigmarole."
Drawing from his experience, Alikhani sought for MobiSurg to offer a mobile anesthesia and patient care service that allows doctors and surgeons to perform basic procedures in their office.
This facet enables doctors and patients to circumvent hospitals or surgery centers for simpler procedures, like pediatric dental work, Alikhani said.
He said his company delivers all the equipment, medications and staff needed for a procedure to the surgeon's door, and ensures patients receive hospital‐quality care. The mobile service is accredited by the Accreditation Association for Ambulatory Healthcare.
Brandie Metz, a pediatric dermatologist who owns a practice in Irvine, said she has used the mobile anesthesia service about 10 or 12 times over the past year‐and‐a‐half for procedures like surgical removal of a birthmark.
"I think it's a great idea, because generally the office setting is a much more comfortable place for a child to go through a procedure, and it's often much more cost‐effective," Metz said. "An operating room is sometimes almost overkill for what I need, and it's often a very intimidating experience for kids."
Another prong to MobiSurg's approach is offering a newly launched brick‐and‐mortar surgery center in Laguna Hills that gives more access to patient's families during procedures and acts as a one‐stop‐shop for surgeons who use the facility.
Alikhani said the surgery center accommodates patients of any age and most surgeries, but puts a special focus on children and special needs patients. Most of its business is in dental or pediatric surgery, Alikhani said.
"I think this will be a big resource for the children in Orange County," Alikhani said.
Parents are able to stay with their child right up until they enter the operating room in the new surgery center, Alikhani said. Children are given anesthesia in an induction room, sometimes while still in their parent's lap, he said.
"The idea is to make sure they fall asleep with mom or dad and wake up seeing mom or dad," Alikhani said.
Greg Spillers, a registered nurse who works at MobiSurg, said this practice makes procedures more comfortable for children and their parents.
"We don't separate the child from his parent, and that alleviates a lot of their anxiety," Spillers said.
Jeanne Huliska of Huntington Beach brought both her son and daughter in for surgeries at the center on Mill Creek Drive.
"It was very nice," she said. "I felt really connected to (her daughter) during the surgery."
But Huliska said she reserves much of her praise for Alikhani. She said he walked her through every step of the procedure, including two phone calls the night before her 5‐year‐old daughter's procedure to answer questions.
"He was trying to calm me down the night before, and I remember he told me, 'I promise you it will be OK. We'll make this as pleasant and non‐memorable as possible'," Huliska said.
"I've never had a doctor spend that much time with me," she said.
Information: www.mobisurg.com or call 888‐662‐4969
Contact the writer: 949‐454‐7373 or mnicolai@ocregister.com