Mobile Service
Surgeons and patients may request to have their procedure performed in the comfort of the doctor's office, reducing the stress from unfamiliar surroundings or intimidating institutional settings. We provide a mobile surgical setting with hospital grade anesthesia and medical care. We bring all the necessary equipment to the physician's office, turning treatment rooms into cutting-edge surgical suites. This enables us to safely provide conscious sedation, deep sedation or general anesthesia with airway protection.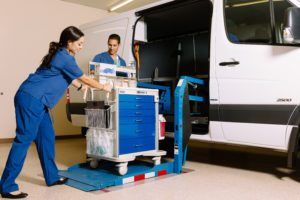 MobiSurg is dedicated to patient comfort, and our team is committed to making the mobile surgical experience as convenient as possible. All testing, including EKG and laboratory work, may be performed in our preoperative clinic prior to the procedure, ensuring personalized service and an all-inclusive approach to medical care.
MobiSurg brings credentialed and qualified medical personnel (anesthesiologists, technicians and nurses), along with the latest in hospital-quality monitoring, anesthesia delivery systems, advanced airway management and resuscitation equipment to our mobile locations.